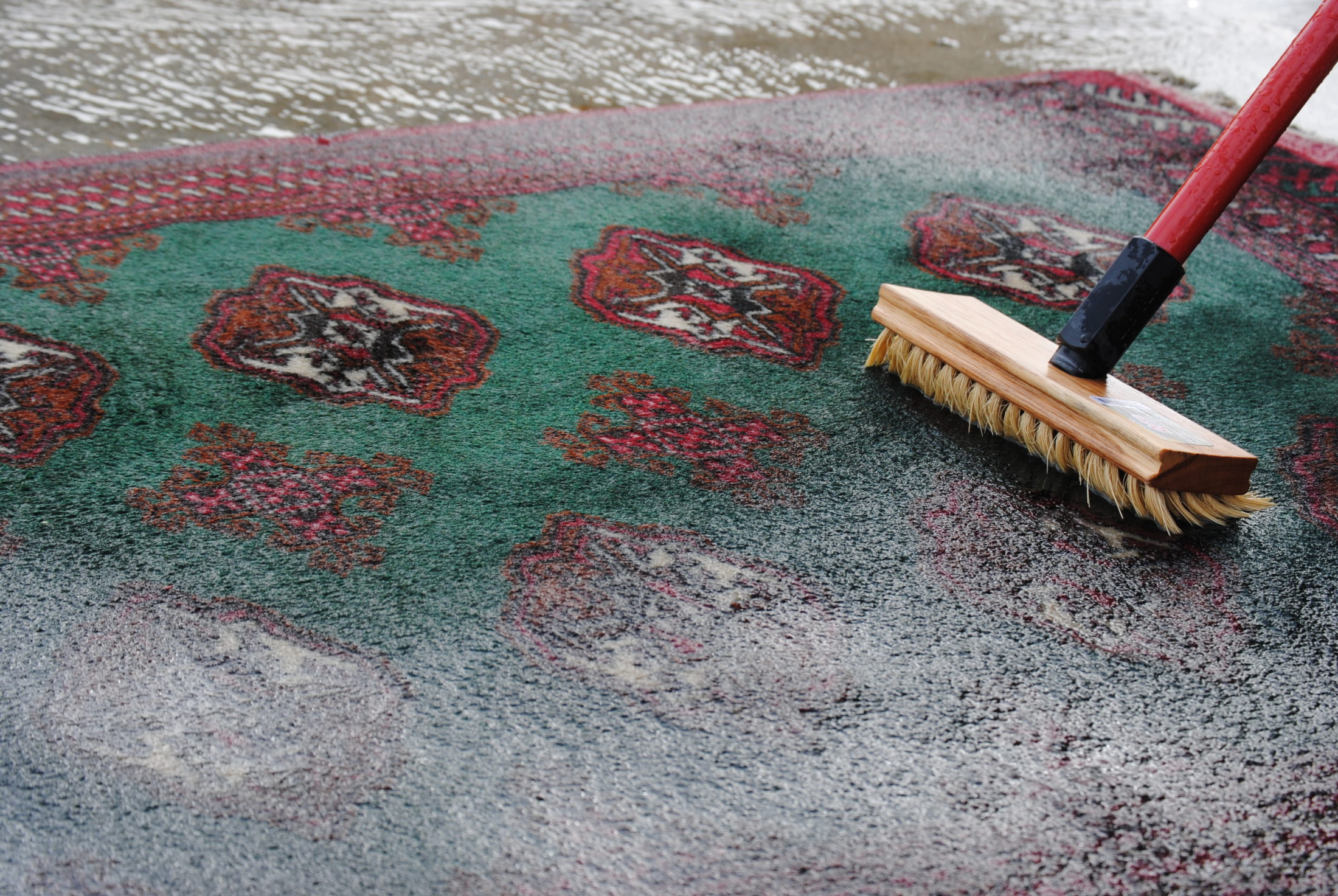 Safe and gentle rug washing
We use a cleaning system called "immersion rug washing." Rugs are laid flat on our wash floor, then are gently agitated and squeegeed until the water coming out is 100% clear.
Loose dyes are controlled through chemistry and copious amounts of water, so no dye migration occurs. In fact, we can often fix previously damaged rugs that have dye bleed issues.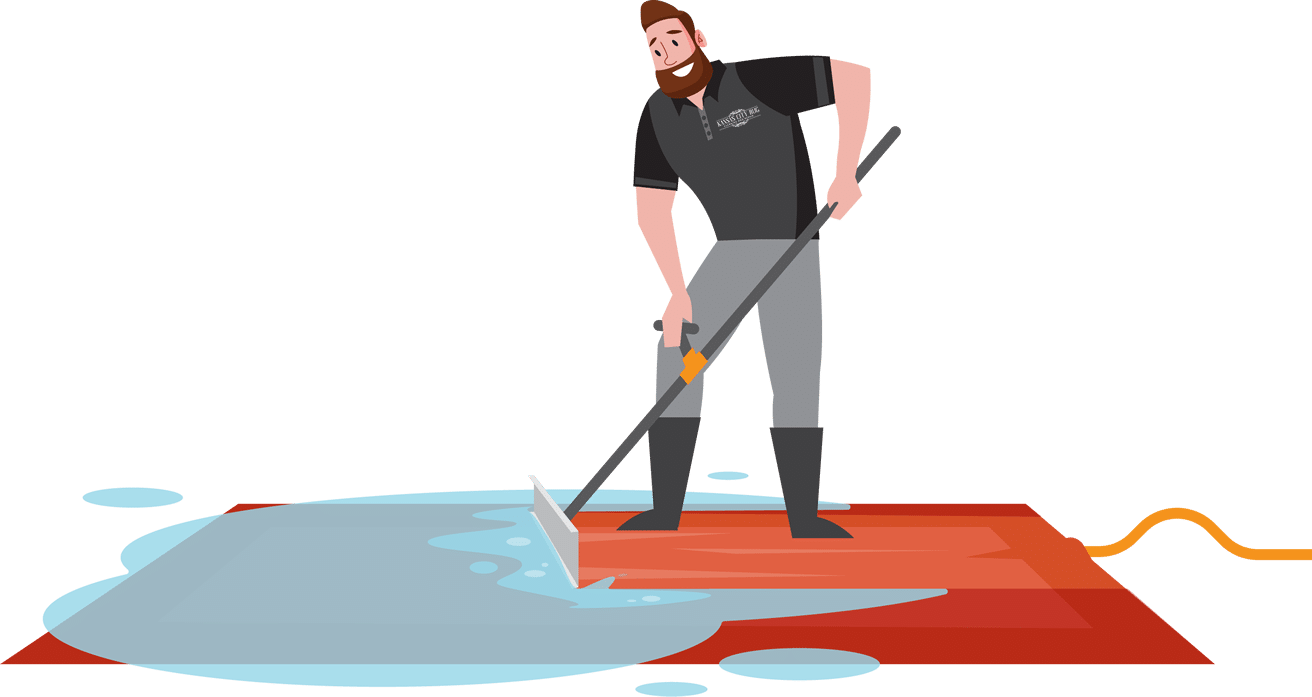 The cleanest rug in town, seriously
Although we specialize in cleaning oriental and handmade rugs, we clean all rug types, even rugs that are not considered oriental rugs. Most rugs are washed individually, by hand, in what's called an "immersion rug cleaning process." This means that each rug is laid flat on our wash floor while water passes under and over it. The rug is then gently agitated and squeegeed with detergents specifically made for its fiber content until the water that comes out is 100% clear. Rugs that need pet urine odors removed sit in a sanitation bath for several hours prior to the cleaning. This sanitation bath kills the bacteria, and the bacteria is was causes the odor. This is how we're able to guarantee 100% odor removal.
So, not only is immersion washing a much better cleaning than other methods, it can also be much safer than topical cleaning like steam or scrub cleaning. High-alkaline cleaners and hot steam can potentially destabilize rug dyes, causing bleeding.
This "bleeding" is why many companies are afraid to clean handmade rugs. If you've been told that your rug cannot be cleaned because it is a "bleeder," meaning the dyes will "bleed" or run when cleaned, then you've found the right company. We have the experience and knowledge to clean any rug, even the "bleeders."
I hope this puts your mind at ease when you choose us to work on your rugs. We take every single precaution to ensure the safety of every rug that comes to us. This means that they are handled with care from when we pick them up to when we drop them off. They are not sitting on a dirty floor in a dirty warehouse waiting to be cleaned, nor are they stacked on top of, or lying underneath a huge pile of other dirty rugs. Every rug is properly tagged, logged into our system, safely washed, properly dried, and properly stored. Clean rugs are immediately wrapped and placed on shelves with other clean rugs.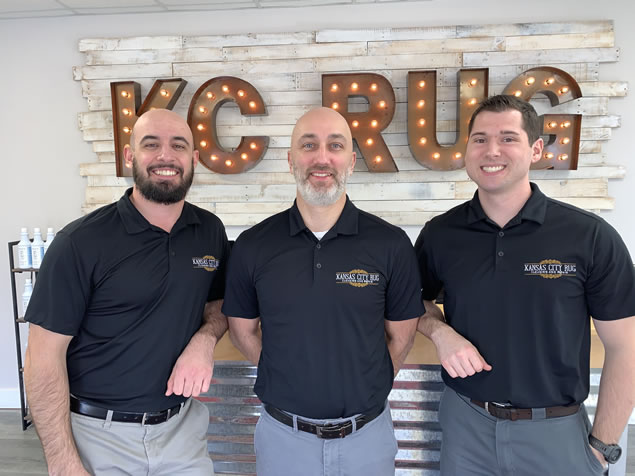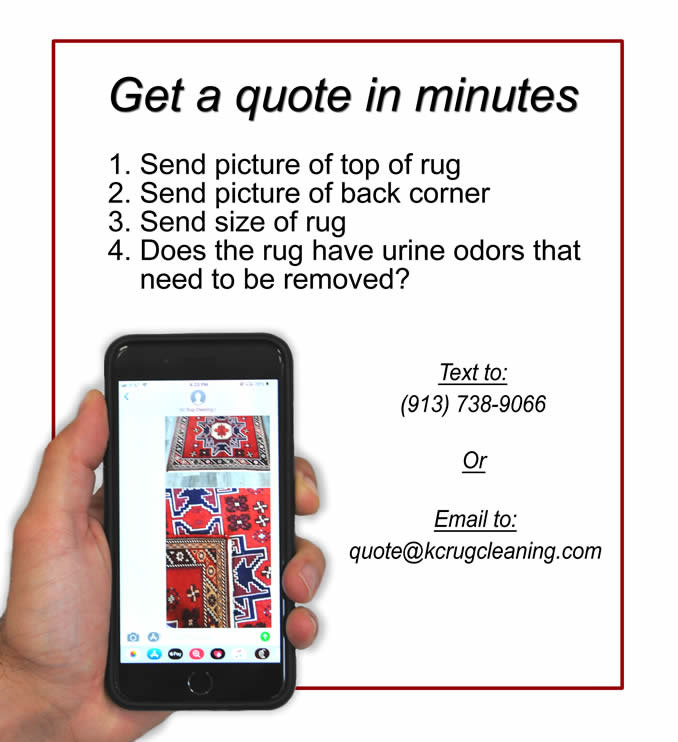 Step 1 – Thorough rug inspection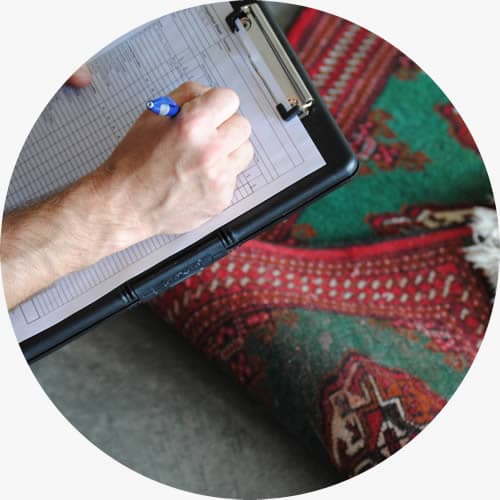 During this stage, we examine every part of your rug and take notes. Several pictures are taken of the top and back of the rug. Those pictures are imported into our company portal and stored forever. We can even share this cloud photo stream directly to our clients.
Examining and taking photos of each rug we receive allows us to protect both our clients and ourselves. Often, clients don't notice damage like color bleeding, wear patterns, and stains that have accumulated over time.
If preexisting damage is well-documented beforehand, we can tell if the problem occurred before or after the wash.
Step 2 – Dye stability testing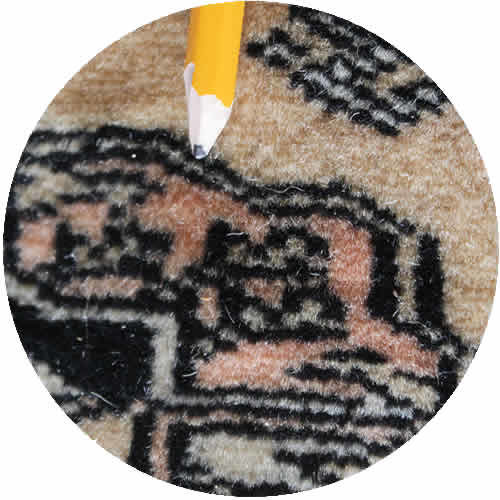 You've probably heard of handmade rugs that can "bleed" during a wash. This means that colors can run or "bleed" into other parts of the rug. In the industry, we call these types of dyes "unstable dyes." There are various testing methods used before we wash a rug, to determine if any of the colors will become loose and bleed while the rug is being washed.
By knowing if any of the colors will run during the washing process, precautionary steps can be taken to prevent colors from running and sticking to other parts of the rug. A combination of chemistry and copious amounts of water can prevent colors from mixing in a rug. Even if dyes do bleed and stick, we have the capabilities to safely remove them.
Step 3 – Dry soil removal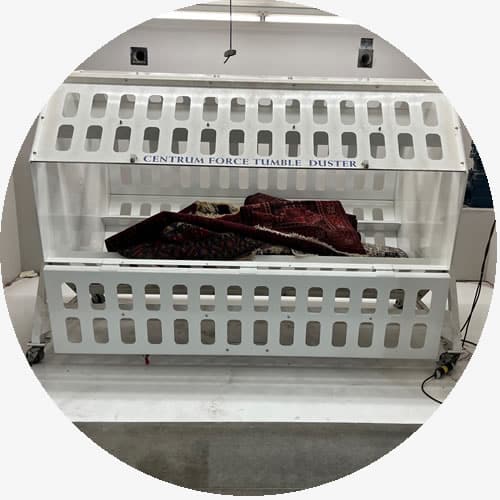 Before we wash a rug, we try to remove as much dust, grit, and soiling as possible. This is done through a variety of methods, such as gentle vibrations, tumbling, and pressurized air.
Removing as much dry dirt and soil from the rug before washing it creates a more efficient washing process.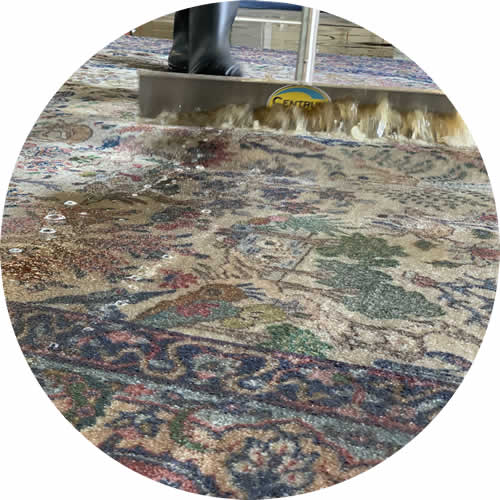 We utilize a safe and gentle rug washing system. The rug is mostly under water while it is gently squeegeed and scrubbed until the water that comes out is 100% clear.
An immersion rug wash process will remove the maximum amount of soiling. It won't just remove the dirt off the rug, it will remove the dirt out from within the rug. So not only is it a better cleaning process, it is also much safer.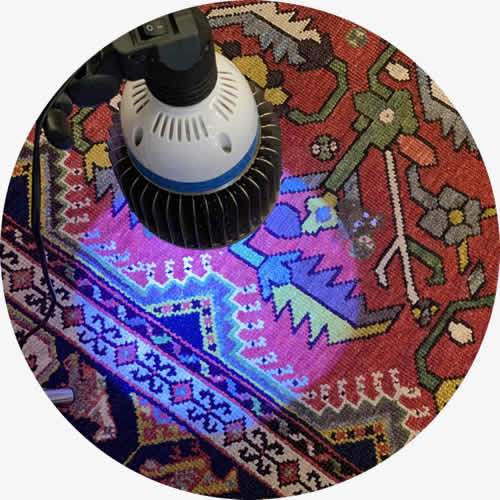 Sometimes a rug can be completely free of soiling, but still have stains. There are safe and effective methods to remove stains, such as pet urine, without removing the original dyes of the rug.
Who doesn't want to restore the original color and beauty of their handmade rug while also removing unwanted stains? We do not charge extra for stain removal. We will do everything possible to make your rug look beautiful again.
Step 6 – Post-cleaning inspection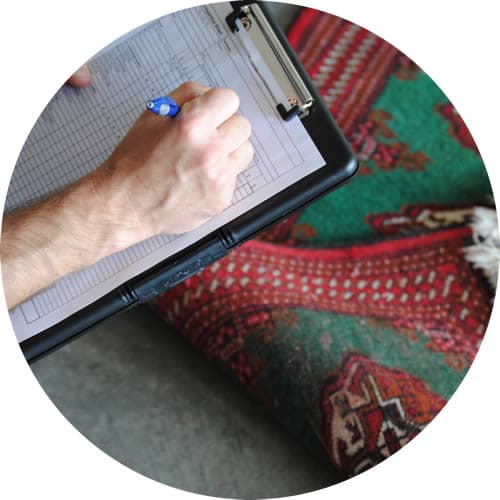 So, we've come full circle. The rug has gone through all the steps of our washing system and is now ready to go home. Our post-cleaning inspection is basically the same thing as our pre-cleaning inspection: creating documentation, taking pictures, etc.
Step 7 – Wrap and deliver!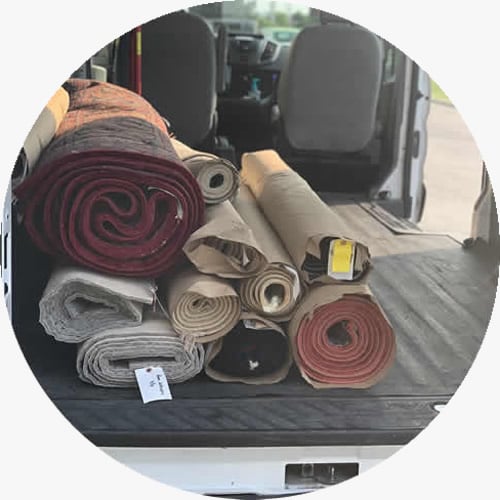 When the rug is ready for delivery, our standard procedure is to wrap the rug in brown paper. Rugs that are being stored long-term can be wrapped in Tyvek wrap.
It's crucial that we maintain the cleanliness of all the rugs during delivery so that they stay in the same shape as the last time we handled them. Brown paper and Tyvek wrap protects the rugs while they're on the delivery van on their way to you.