About Us
Hello there! Thank you for taking the time to learn about our company. Who are we, and what do we do? Well, we are a group of rug lovers that specializes in cleaning and restoring beautiful, hand-made rugs. Yes, we clean all rug types, but our specialty is rugs that other companies do not have the experience or ability to clean safely.
I'm sure the most important thing you want to know is: can I trust these guys with my fine rugs? Maybe we can answer that question by providing some info about ourselves. The short answer is, yes, we clean and restore the most delicate and valuable rugs. We've cleaned and repaired thousands of rugs, from small synthetic rugs to very large, hand-made, silk rugs, and everything in between. About 75% of the rugs we work on are hand-made, Oriental rugs. We utilize a safe and gentle rug washing system that is not only a safer way to clean rugs but does a much better job. We have been trained and mentored by some of the most well-known and respected rug washers in the country. We regularly attend rug restoration classes to teach and be taught. We believe in continuously building on our already extensive knowledge of rugs.
Our history
Way back in the long long ago, two guys named Michael and Travis met in a rug cleaning education course in Nashville, TN. Although both live in KC, Travis in Olathe, and Michael in Spring Hill, they had never met. They had never met despite being in the same industry (carpet cleaning) and lived 8 miles from each other! It was as if it was meant to be: meeting in a class hundreds of miles away. The two young(ish) and ambitious gentleman quickly became friends and decided to start a business venture together. The partnership seemed to be a great fit, as each brought a different skill set to the table. Michael is a great salesman and can walk up and talk to anyone. Travis excels in the technical side of the business, problem-solving, and generating efficient systems.
"Before actually starting the business, Michael and I did a market analysis. We called most of the local rug washing companies in town just to get a feel for how they operated," said Travis. "We would call these companies and were just completely blown away by their lack of customer service. When they answered the phone, there were no questions being asked or information being provided. We normally got a simple "just bring it in" or ".50 cents a square foot" without even asking what type of rug we had."
At the time, there weren't very many professional rug washers in Kansas City, and there still really aren't. So Michael and Travis saw an opportunity and took it. They would fill the void by providing a company that had a more modern sense of marketing, sales, and—most importantly—customer service.
The company was an immediate success.
"It was crazy in the beginning. We were literally washing rugs in our driveways at night and on weekends," Travis recalls. "The rugs just kept coming in, we couldn't stop the phone from ringing!"
Just a few months after starting the business, they opened a small shop. It wasn't perfect, but it was at least a place where clients could drop off rugs and Travis and Michael could wash rugs. Fast-forward 1.5 years and the two got an even bigger shop, a 5k sq. ft. rug cleaning facility.
"Despite the early success, it really didn't hit me how good we were until we moved into the space on highway 169," said Travis.
"We would set these ridiculous sales goals, and we just kept exceeding them for the most part," Michael recalls. In 2018, Kansas City Rug Cleaning and Repair moved to its current location on 151st Terrace. A large investment was made to modify the space before moving in. Their company now has a large showroom and a much larger wash floor. It's a state-of-the-art professional rug washing facility.
So what's the nicest and most expensive rug we've ever cleaned?
I thought you'd never ask! Well, the most expensive rug we've ever cleaned was a 16'x27′ silk on silk rug (silk pile and silk foundation) valued at $300,000. We were in awe of this piece. Absolutely stunning. However, it wasn't necessarily our favorite rug that we've cleaned. In 2018, a 12×18 antique Bidjar came to us. It was in incredible condition considering its age. The owner, who could have sold it for maybe $30k-$40k, ended up donating it to a local museum.

I hope this puts your mind at ease when you choose us to work on your rugs. We take every single precaution to ensure the safety of every rug that comes to us. This means that they are handled with care from when we pick them up to when we drop them off. They are not sitting on a dirty floor in a dirty warehouse waiting to be cleaned, nor are they stacked on top of, or lying underneath a huge pile of other dirty rugs. Every rug is properly tagged, logged into our system, safely washed, properly dried, and properly stored. Clean rugs are immediately wrapped and placed on shelves with other clean rugs. When we return your rugs, we wear foot covers and are careful in your home and with your furniture!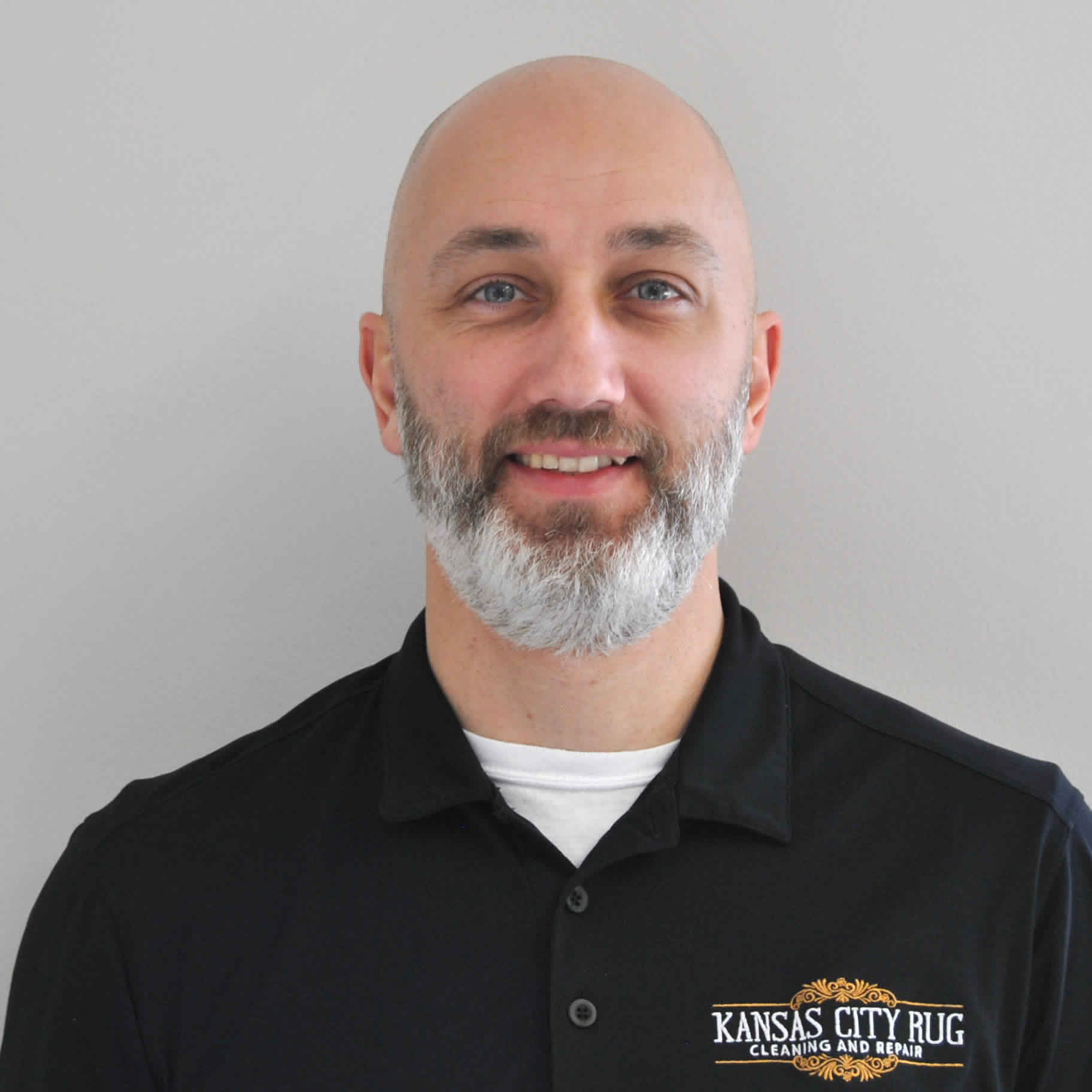 Travis Briar
Owner
Travis is the co-founder of Kansas City Rug Cleaning and a 20 year rug lover. Travis's favorite rug is a Turkish Hereke.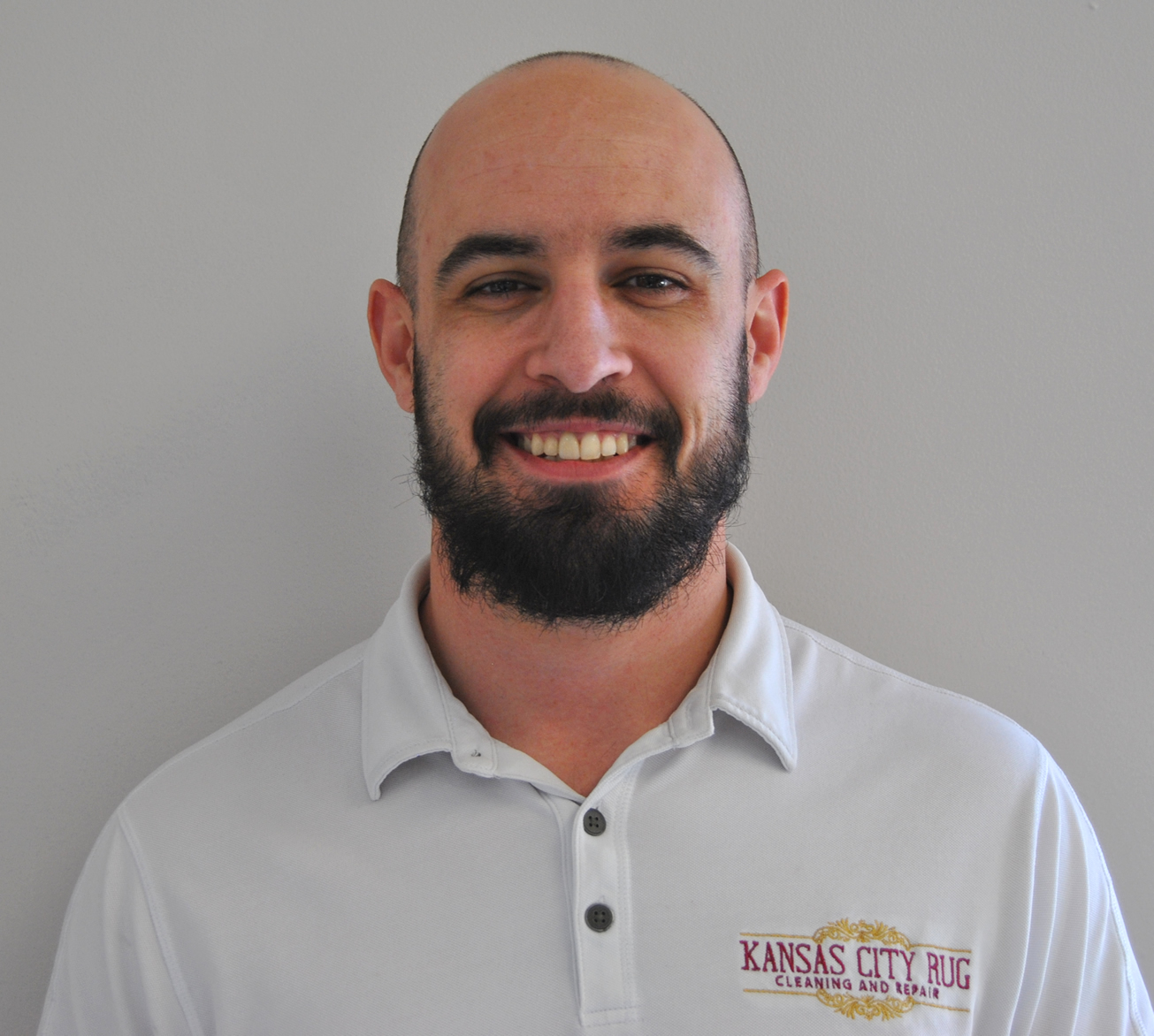 Jordan Owens
Sales Manager
Jordan is an 8 year rug lover and his favorite rug is a Bidjar.