Rug Cleaning – Lawrence, KS
We are a rug cleaning and restoration facility located in South Kansas City, but service many surrounding areas, including Topeka and Lawrence, Kansas.
We primarily clean and restore oriental and hand-made rugs, but we clean all rug types such as synthetic, shag rugs, viscose, and more!
Our services include rug cleaning, repair and restoration, pet urine stain and odor removal, and more.
In addition to restoration services, we offer a variety of products that can help extend the life of you rug, such as rug pads, protectors, moth treatments and prevention, and wool-safe spot cleaners.
How we clean rugs
Many steps are taken even before cleaning the rug. As much dry soil is removed mechanically by machinery that gently vibrates the back of the rug, or by placing the rug in our tumble duster. Pressurized air can also be used to remove dry soils before the rug enters the washing stage. Once dusted, the rug is cleaned with fresh water and cleaning agents made specifically for the rug's fiber content. For example, we do not use the same detergents on synthetic rugs as we do on wool, silk, or viscose rugs.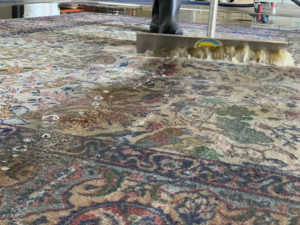 When the rug has been fully "dusted" and as much dry soil is removed as possible, it is laid flat on our wash floor. We utilize an immersion washing system, so the rug is mostly underwater where it is gently scrubbed and squeegeed until the water coming out is completely clear and dirt free. This is how we're able to guarantee 100% odor removal.
After the cleaning, the rug is inserted into our centrifuge machine, where 95% of the moisture is extracted. Rugs are either hung or laid flat to dry depending on the size and type.
Once dry, rugs are inspected, vacuumed, groomed, and wrapped in paper for safe transportation. We can also wrap them in a material that is great for long-term storage, for a small fee.
"Bleeding" or color run is common when a rug becomes wet or during the wash. We have the means to control this through chemistry and high volumes of water. We also have the ability to remove pre-existing dye bleed on fringes and rug pile.
Pick up and delivery available
If you're located in Lawrence and are interested in rug cleaning and restoration, give us a call. We are able to provide no-obligation quotes over the phone or text message. We just need to know the type, size, and whether or not the rug has odors that need to be removed such as pet urine, smoke, or mildew. Repair quotes can also be provided over the phone, but there is usually more than one option to fix a rug.
We offer pick-up and delivery for a small fee on orders under $400 in Topeka and Lawrence, Kansas. Orders over $400 include free pick up and delivery.
We clean rugs from around the world!
Persian
Turkish
Navajo
Karastan
Chinese
Hides and animal skins
…and more!
We clean all rug types!
Wool rugs
Viscose
Silk
Synthetic
Shag rugs
Needlepoints
…and more!